SCOUT featuring the Direct Access Kit (DAK)
SCOUT featuring the Direct Access Kit (DAK) is an innovative pull-through mass interconnect solution specifically designed to deliver the full performance of the PXI platform. DAK enables system designers to limit / eliminate traditional cabling by introducing a pull-through interface adapter.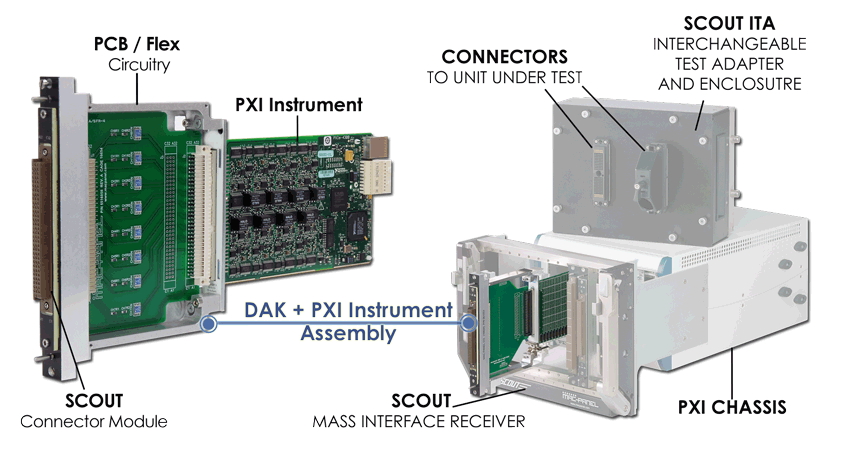 Through the utilization of fully enclosed PCBs or fixed-wire solutions, DAKs mitigate capacitance, signal crosstalk and other attenuation issues that plague conventional cable based ATE. The result is increased performance with a far higher degree of stability and up-time.
Unprecedented Modularity
Simply remove a DAK Assembly and replace it with another or swap a DAK Assembly from one system to another system. In both cases, the process is typically be completed in a matter of minutes and with no adverse impact on the system as a whole – the system capacitance signature remains unaffected. The opposite is true of conventional cable based ATE solutions where instrument removal typically requires a system calibration upon completion.
Reduced Total Cost of Ownership
SCOUT based systems are generally configured at a comparable initial price to cable based solutions, BUT the cost of integration and maintenance will ALWAYS be much lower. Complex PXI configurations can be integrated in a matter of hours where cable based solutions can take days or weeks. Furthermore, DAK modules meet COTS requirements, eliminating costly engineering and assembly time associated with custom cable assemblies – AND these costs savings will continue throughout the life of the system.