PXIS-2719A - 19-Slot 3U PXI Chassis with AC
Main features
Châssis PXI 19 emplacements montés en rack avec un emplacement système et dix-huit emplacements périphériques PXI / CompactPCI
Compatibilité spécification matérielle PXI Rév. 2.2
Mécanisme avancé de refroidissement forcé pour une dissipation thermique efficace et uniforme
Entrée d'horloge de référence 10 MHz externe via connecteur BNC
0 ° C à 55 ° C plage de températures de fonctionnement étendue
Contrôle / contrôle intelligent du châssis: contrôle automatique de la vitesse du ventilateur, contrôle / exportation de l'état du châssis et commande marche / arrêt du châssis à distance
Alimentation secteur de 600 W de qualité industrielle
LED de surveillance de l'alimentation, de la température et du ventilateur
Datasheet
The ADLINK PXIS-2719A is a 3U PXI chassis with a series of advanced features:
An innovative cooling mechanism to deliver efficient and uniform heat dissipation
Superior stability within an extended temperature range
Intelligent chassis management that dynamically monitors and manages fan speed, system voltages, and internal temperature
Remote management via standard RS-232 monitoring port
The PXIS-2719A is compliant with PXI and CompactPCI specifications and provides one system slot and eighteen peripheral slots. It is designed to meet or exceed application requirements by providing a large slot capacity, extended operating temperature range, and excellent heat dissipation in a lightweight and robust design.
The PXIS-2719A includes an Industrial-grade 600 W AC power supply to provide ample reliable power to the entire system. The PXIS-2719A is designed with an external 10 MHz reference clock input, front panel LED indicators, and easy-access PXI/CompactPCI slots with card guides for convenient installation and use. With innovative features and robust design, the PXIS-2719 is your best choices of PXI platform for all your test and measurement requirements.
Mécanisme innovateur de refroidissement
Le PXIS-2719A dispose d'un design innovant pour la dissipation de la chaleur. Les ventilateurs de refroidissement sont placés dans la partie arrière du châssis où l'air frais est tiré à travers les ouvertures sur le fond et épuisé par le dos. Cette nouvelle conception assure un débit d'air uniforme pour chaque emplacement PXI et une capacité de refroidissement exceptionnelle. Lorsque ce châssis est installé dans un rack, la nouvelle conception de refroidissement minimise l'aspiration d'air chaud de la zone arrière, où tous les autres appareils s'échappent,tout en maintenant une température constante à l'intérieur du châssis.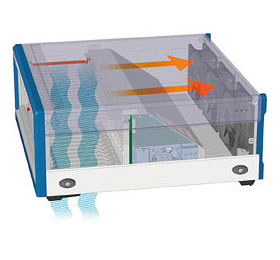 Gestion intelligente du châssis
Le PXIS-2719A dispose d'une carte de contrôle intégrée qui surveille et gère l'état du châssis, y compris la température interne, la vitesse du ventilateur et les tensions. En utilisant le port de surveillance RS-232, les informations d'état du châssis peuvent être exportées vers un autre ordinateur pour la gestion à distance. La carte de commande peut également accepter les commandes du système distant pour permettre l'activation et la désactivation à distance de la puissance et la vitesse de rotation du ventilateur du châssis PXIS-2719A.
Montage en rack flexible
ADLINK fournit également un kit de montage en rack optionnel pour permettre une installation flexible du PXIS-2719A dans un rack. En ajustant la position du support de montage en rack, le PXIS-2719A peut être encastré dans une armoire rack jusqu'à 10 centimètres pour accueillir des parties mécaniques externes sur la face avant, comme des connecteurs / câbles compliqués et des modules d'interconnexion de masse.