PXI-3980 - 3U Intel® Core™ i7-2715QE 2.1 GHz Quad-Core Processor-based PXI Controller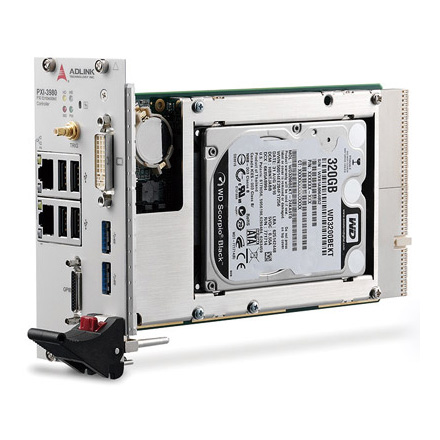 Main features
Intel® Core™ i7-2715QE 2.1 GHz processor, 3.0 GHz maximum in single-core, Turbo Boost mode

Supports dual display with VGA + DVI

Dual channel DDR3 SODIMM, up to 16 GB 1333 MHz

Maximum system throughput 132 MB/s

Integrated SATA storage: 500 GB (or greater) HDD or 120 GB (or greater) SSD

Dual USB 3.0, Four USB 2.0, Dual GbE

Built-in GPIB (IEEE488) controller

Trigger I/O for advanced PXI™ trigger functions
Datasheet
| | | |
| --- | --- | --- |
| PXI-3980 | | |
| PXI-3980/M8G | | |
| PXI-3980/SSD | | |
| PXI-3980/M8G/SSD | | |
The ADLINK PXI-3980 PXI embedded controller, based on the second generation Intel® Core™ i7 processor is specifically designed for hybrid PXI based testing systems, delivering a rugged yet stable platform for a wide variety of testing and measurement applications.
Combining state-of-the-art 2.1 GHz quad-core Intel® Core™ i7-2715QE processors (3.0 GHz maximum in single-core, Turbo Boost mode), and up to 16 GB of 1333 MHz DDR3 memory, the PXI-3980 utilizes four separate computing engines on a single processor, enabling execution of numerous independent tasks simultaneously.
The ADLINK PXI-3980 provides ample interface flexibility, including dual USB 3.0 connections for high speed peripheral devices, dual Gigabit Ethernet ports, with one for LAN connection and the other for controlling LXI instruments, four USB 2.0 ports for peripheral devices and USB instrument control, and a Micro-D GPIB connector for GPIB instrument connection, for hybrid PXI-based testing systems control.