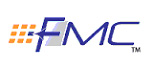 FPGA Mezzanine Card (FMC) is an ANSI/VITA standard that defines I/O mezzanine modules with connection to an FPGA or other device with re-configurable I/O capability.[1][2] It specifies a low profile connector and compact board size for compatibility with several industry standard slot card, blade, low profile motherboard, and mezzanine form factors.
The FMC specification defines:
I/O mezzanine modules, which connect to carrier cards
A high-speed connector family of connectors for I/O mezzanine modules
Supporting up to 10 Gbit/s transmission with adaptively equalized I/O
Supporting single ended and differential signaling up to 2 Gbit/s
Numerous I/O available
The electrical connectivity of the I/O mezzanine module high-speed connector
Supporting a wide range of signaling standards
System configurable I/O functionality
FPGA intimacy
The mechanical properties of the I/O mezzanine module
Minimal size
Scalable from low end to high performance applications
Conduction and ruggedized support
The FMC specification has two defined sizes: single width (69 mm) and double width (139 mm). The depth of both is 76.5 mm. The FMC mezzanine module uses a high-pin count 400 pin high-speed array connector. A mechanically compatible low pin count connector with 160 pins can also be used with any of the form factors in the standard.